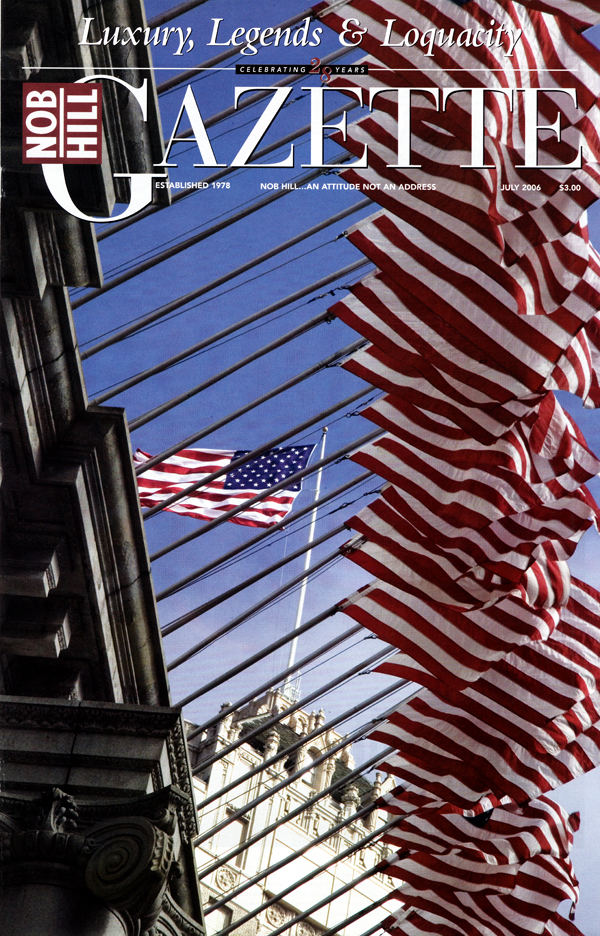 On The Cover:
American Flags
By Ron Henggeler
Photograph, 2005
Flags flapping in the air. This sight can stir all that we hold dear about America, and remind us of the best of times.
The photo was taken in front of the Fairmont Hotel on Nob Hill. The single flag in the background is atop the Mark Hopkins Hotel. On the Fourth of July weekend, the Fairmont Hotel replaces all the international flags over its main entrance with American flags. The exception was after 9-11 in 2001. (And the Mark Hopkins' flag was lowered to half mast.)
Ron Henggeler is a photographer, graphic artist, bibliophile, and avid San Francisco historian who occasionally serves as a tour guide. He creates sculptural constructions from memorabilia that he collects. Ron works at the Big Four Restaurant in the Huntington Hotel. You can find out more about his (and SF history) at www.ronhenggeler.com.
Home | Gallery | About Me | Links |Contact me
Copyright 2005 All rights reserved
The image is not in the public domain. It is the sole property of the artist and may not be reproduced on the internet, sold, altered, enhanced, modified by artificial, digital or computer imaging or in any other form without the express written permission of the artist.