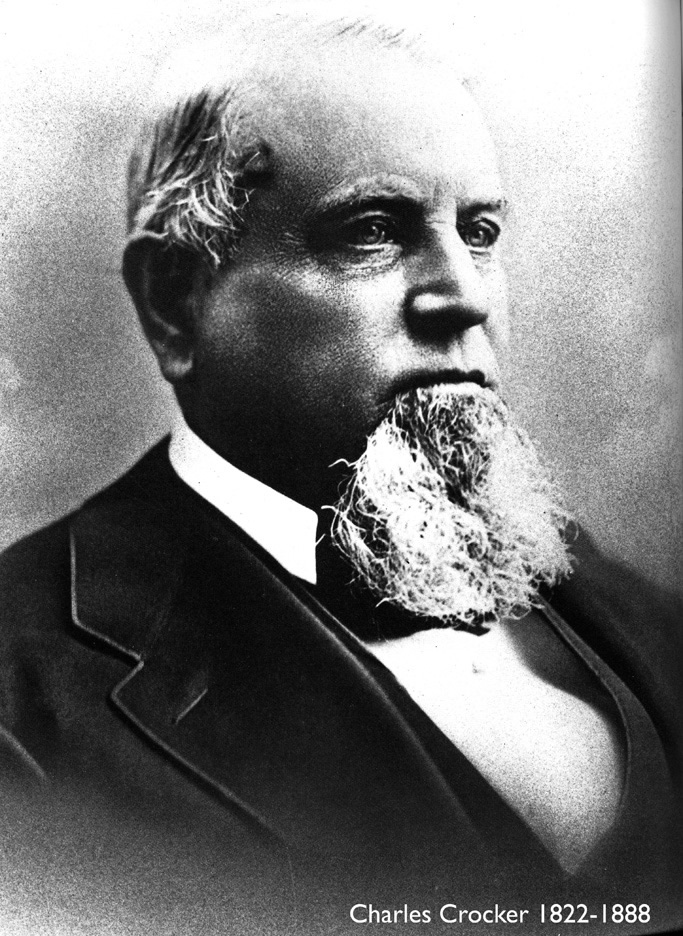 Charles Crocker 1822-1888
In 1861, after hearing a very intriguing presentation by Theodore Judah , he was one of the four principal investors along with Mark Hopkins, Collis Huntington and Leland Stanford, who formed the Central Pacific Railroad, which became the western portion of the first Transcontinental Railroad in North America. His position with the company was that of construction supervisor and president of Charles Crocker & Co., a CP subsidiary founded expressly for the purpose of building the railroad. Crocker managed the actual construction of the railroad. He overcame shortages of manpower and money by hiring Chinese immigrants to do much of the back-breaking and dangerous labor. He drove the workers to the point of exhaustion, in the process setting records for laying track and finishing the project seven years ahead of the government's deadline.

Crocker built another mansion across from his on Jones Street for his son William.
San Francisco legend has it that when the mansion burned in 1906, Crocker's majordomo managed to rescue only Millet's "Man with a Hoe" Corot's Dance of the Nymphs" and Rouusseau's "The Oaks". But the fire claimed 35 Degas paintings and a Rubens.

The Big Four Index: Page One, Two
Home | Gallery | About Me | Links |Contact me
Copyright 2008 All rights reserved
The images are not in the public domain. They are the sole property of the artist and may not be reproduced on the internet, sold, altered, enhanced, modified by artificial, digital or computer imaging or in any other form without the express written permission of the artist.
Non-watermarked copies of photographs on this site can be purchased by contacting Ron.