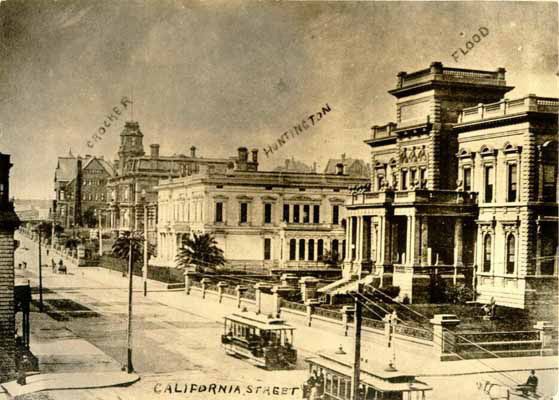 Nob Hill, circa 1889
From Mason Street, looking west up California Street.

Before the cable cars conquered the steep San Francisco hills, the wealthy preferred living in the low-lying areas of South Park and the Western Addition.

Nob Hill, before the cable cars, was sparsely occupied, primarily by families of modest means in modest homes. With the advent of the cable cars and the explosion of wealth from the Comstock Lode and the transcontinental railroad, Nob Hill's views and commanding position above the Financial District suddenly looked mighty appealing to the Bonanza kings and the Big Four railroad barons. The newly created accessibility created by the cable car set off mansion-building binge that resulted in a neighborhood of opulent and gaudy Victorian palaces never equaled before or since.
The Big Four Index: Page One, Two
Home | Gallery | About Me | Links |Contact me
Copyright 2008 All rights reserved
The images are not in the public domain. They are the sole property of the artist and may not be reproduced on the internet, sold, altered, enhanced, modified by artificial, digital or computer imaging or in any other form without the express written permission of the artist.
Non-watermarked copies of photographs on this site can be purchased by contacting Ron.