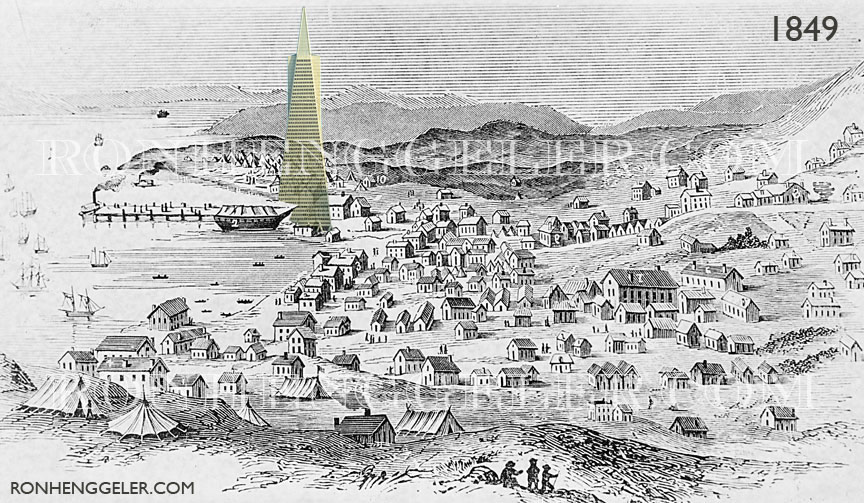 The pier in this image, being the only pier in the image, is the Clay Street Pier. At the start of the California Gold Rush in 1849, the first pier built out into the deep water (to receive the goods that were soon to come flooding into San Francisco on ships) was at Clay Street... With that recognized and established, the ship on the shore in this picture has to be the Niantic, a Boston whaler that came around the Horn at the beginning of the Gold Rush. Oil barrels were tied to the sides of the Niantic and she was deliberately beached on the shoreline of Yerba Buena Cove at high tide. A doorway was cut into the hull and she became a store-ship. She burned to the waterline in the Great Fire of 1851 and became part of the landfill like so much else of the burgeoning city that was lost to the terrible conflagration. In less than a month, a lodging house was built over her remains, the Niantic Hotel, of course. In 1872 the Niantic Hotel was replace by a small office building. During its construction, workmen found the old ship's hull along with 35 baskets of champagne...still very drinkable. The office building was destroyed in the 1906 Earthquake and Fire. Fast forward to 1978, when ground was broken next to the Transamerica Pyramid's Redwood Park. The buried burned hull of the Niantic was once again uncovered. A California Historical Society brass plaque now commemorates the spot where she became a part of our history (and where a section of her still remains quietly sleeping under the tall redwood trees). Additionally, an impressive piece of the Niantic is on permanent display at San Francisco's Maritime Museum (across from Ghirardelli Square) along with a marvelous, glass-encased miniature model-display of her, as a beached store-ship during California's Gold Rush. For more on the Niantic, visit this fun site: http://members.tripod.com/~WaipahuHaole1/SanFrancisco.html
© 2006 Ron Henggeler. All rights reserved
The images on this website are not in the public domain. They are the sole property of the artist and may not be reproduced on the Internet, sold, altered, enhanced, modified by artificial, digital or computer imaging or in any other form without the express written permission of the artist.