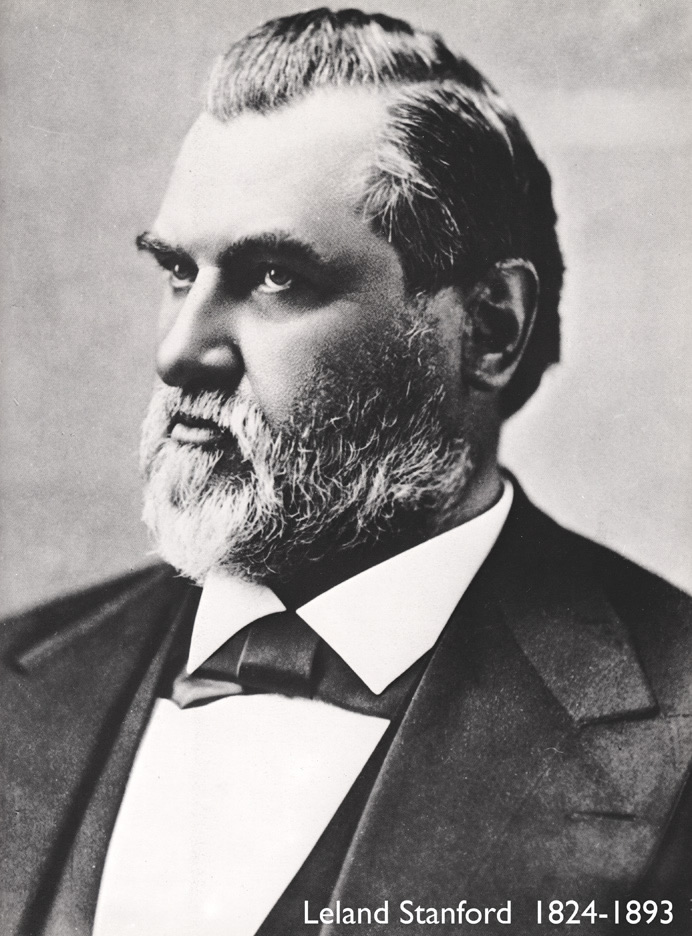 Leland Stanford 1824-1893
As president of the Central Pacific, he directed its construction over the mountains, building 530 miles in 293 days. As head of the railroad company which built the first transcontinental railway line over the Sierra Nevada, Stanford hammered in the famous golden spike in Promontory, Utah on May 10, 1869. In 1870, the Central Pacific Railroad acquired the Southern Pacific Railroad, forming one of the most powerful railroad monopolies in history.

With wife Jane, Stanford founded Leland Stanford Junior University as a memorial for their only child, Leland Stanford, Jr. , who died as a teenager of typhoid in Florence, Italy while on a trip to Europe. Approximately US$20 million (US$400 million in 2005 dollars) initially went into the university, which held its opening exercises October 1, 1891. The wealth of the Stanford family during the late nineteenth century is estimated at approximately US $50 million ($US1 billion in 2005 dollars).

He was the eighth Governor of California, serving from December, 1861 to December, 1863.

The Big Four Index: Page One, Two
Home | Gallery | About Me | Links |Contact me
Copyright 2008 All rights reserved
The images are not in the public domain. They are the sole property of the artist and may not be reproduced on the internet, sold, altered, enhanced, modified by artificial, digital or computer imaging or in any other form without the express written permission of the artist.
Non-watermarked copies of photographs on this site can be purchased by contacting Ron.