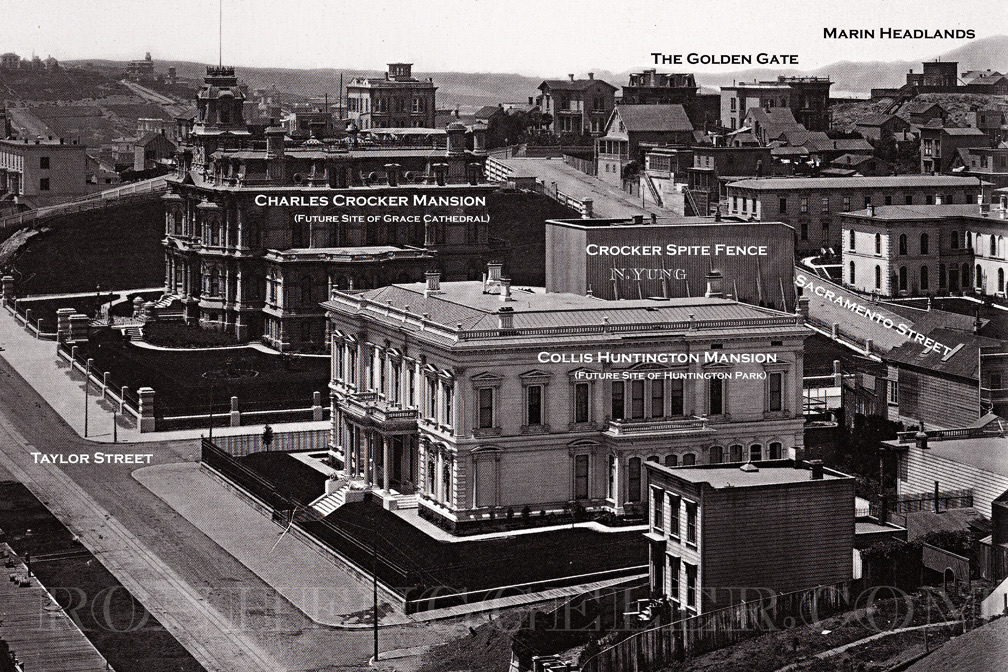 Collis Huntington's mansion was originally the home of David D. Colton, built in 1872. Colton---the chief lawyer for the Central Pacific Railroad, owned by Crocker, Hopkins, Stanford, and Huntington---was known with derision as the "Half" of the "Big Four and a Half".

In the most sensational trial of the Gay Nineties, the Big Four sued Colton's widow, claiming her recently deceased husband had embezzled railroad funds. Mrs. Colton produced six hundred "Colton Letters" from Huntington, proving that her husband had been directed to use the money to buy politicians for the railroad in Washington and Sacramento. Triumphant at the exoneration of her late husband, Mrs. Colton sold the house and left San Francisco.

In 1892, Collis P. Huntington bought the house for $250,000. Like most of its neighbors, it didn't survive the 1906 fire. His widow. Arabella Duval Yarrington Worsham Huntington Huntington (whose late husband was Henry Edwards Huntington, donar of the Huntington Library) gave the park-property to the city in 1915.
Respectfully taken from The New SAN FRANCISCO At Your Feet by Margot Patterson Doss Published by Grove Weidenfeld 1991

The Big Four Index: Page One, Two
Home | Gallery | About Me | Links |Contact me
Copyright 2008 All rights reserved
The images are not in the public domain. They are the sole property of the artist and may not be reproduced on the internet, sold, altered, enhanced, modified by artificial, digital or computer imaging or in any other form without the express written permission of the artist.
Non-watermarked copies of photographs on this site can be purchased by contacting Ron.