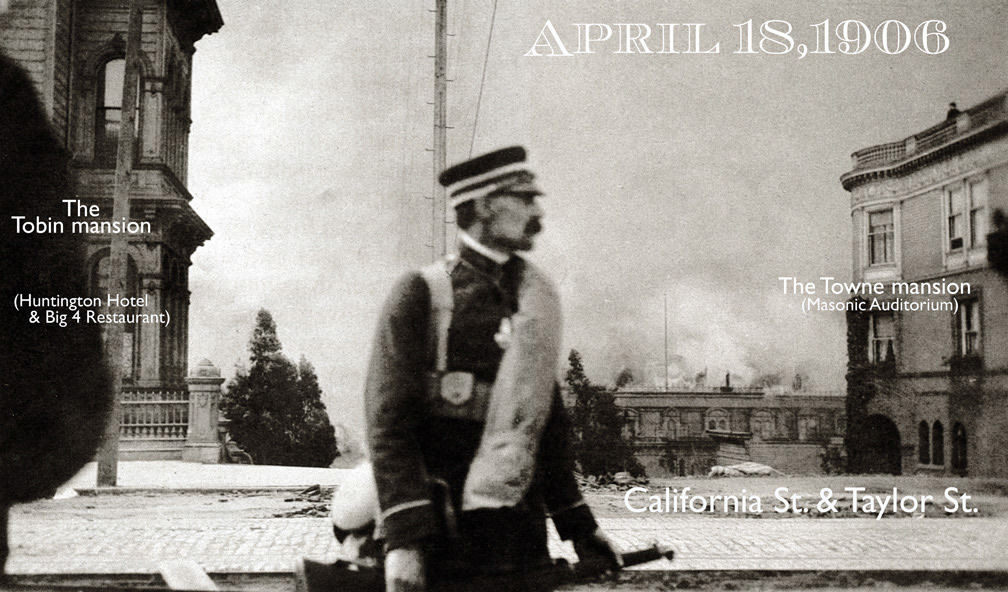 On the morning of April 18th, 1906, opposing continental pressures along the San Andres fault forced the earth's crust to suddenly rip apart, casually shaking the planet's surface. In geological terms, it was a minor realignment. For the inhabitants on the surface, it was a 60-second roller-coaster ride off devastating proportions. From WALKING SAN FRANCISCO On The Barbary Coast By Daniel Bacon Quicksilver Press 1997 (a favorite book, highly recommended)

Even before the shaking had subsided, at least 50 fires broke out. With nearly all the waterlines broken, the horrific firestorm that followed would eventually destroy three quarters of the city. Early on second day of burning, April 19th, the fire made its way up to Nob Hill and ultimately reduced all the hill-crowning grand mansions to a vast field of jumbled rubble and powdery ash. After the fire had finished with Nob Hill, three scorched stone structures were all that remained. The burned out shells of the James Flood mansion and the Fairmont Hotel stood surrounded by total devastation, while across the street from them, stood the lonely marble doorway of Alban Towne's mansion.

The Big Four Index: Page One, Two
Home | Gallery | About Me | Links |Contact me
Copyright 2008 All rights reserved
The images are not in the public domain. They are the sole property of the artist and may not be reproduced on the internet, sold, altered, enhanced, modified by artificial, digital or computer imaging or in any other form without the express written permission of the artist.
Non-watermarked copies of photographs on this site can be purchased by contacting Ron.