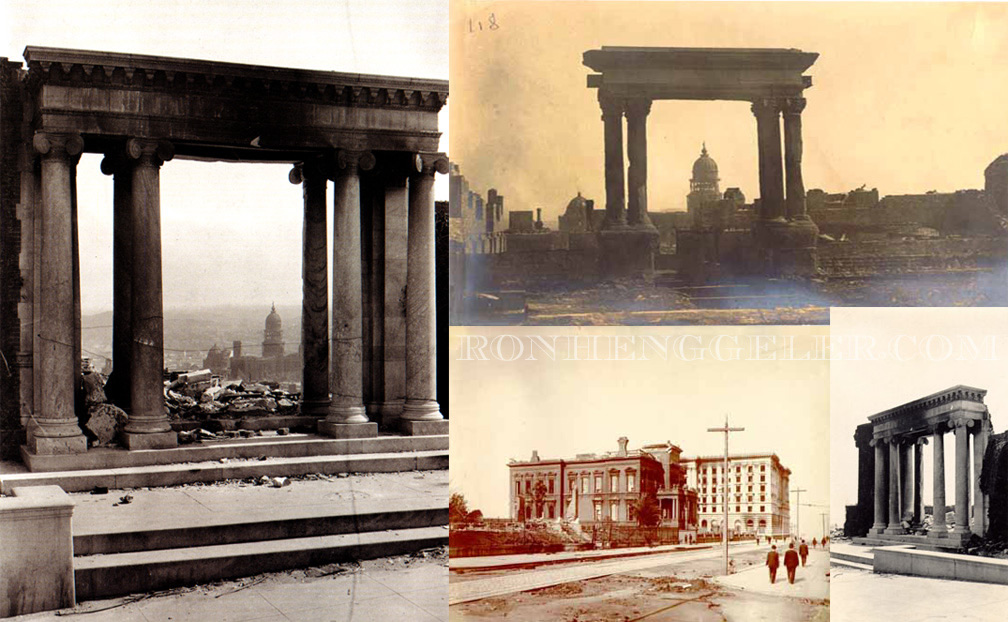 After the Fire, famous photographer Arnold Genthe stood in the middle of California Street near the top of Taylor and took a photo of the destroyed City Hall Building through the burned-out Towne mansion's marble doorway. The photo became a sensation and eventually one of the iconic views of the 1906 event. A poem was written about the doorway view called A Portal of the Past.

A PORTAL OF THE PAST

Like a phantom doorway, giving
On the Hall of Memory,
Stands the broken portal---living
Threshold of the Used-to-be.

Naught but space beyond—below it
Debris of the mansion's fall
At its side, pathetic, clinging
Remnants of the shattered wall.

Gone the wealth of pomp and splendor,
Treasures of the brush and loom;
Artistry of the smith and builder,
Mingled in their ashen doom.

The Big Four Index: Page One, Two
Home | Gallery | About Me | Links |Contact me
Copyright 2008 All rights reserved
The images are not in the public domain. They are the sole property of the artist and may not be reproduced on the internet, sold, altered, enhanced, modified by artificial, digital or computer imaging or in any other form without the express written permission of the artist.
Non-watermarked copies of photographs on this site can be purchased by contacting Ron.